Give to Lincoln Day
---
Give to Lincoln Day - May 31st, 2018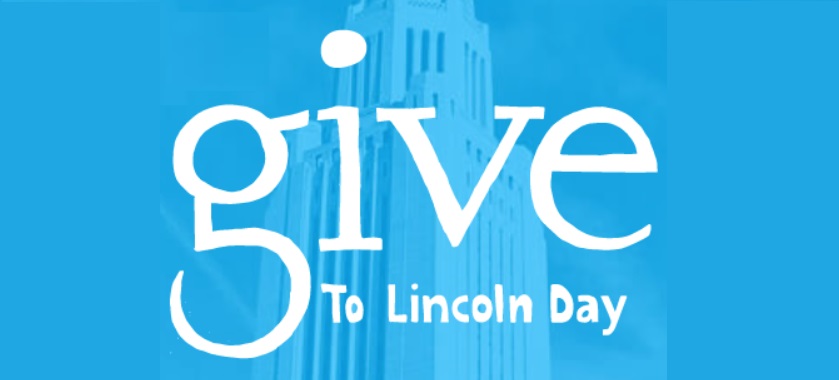 Give To Lincoln Day is your chance to make a real impact on Lincoln's quality of life. We encourage everyone to join us for a record-setting day of giving on May 31st from 12:00am to 11:59pm. Together, we have the power to support Lincoln's nonprofit organizations and improve lives.
Give to Lincoln Day 2017 - Event Overview
Give To Lincoln Day is a 24-hour event that encourages everyone to contribute to Lincoln and Lancaster County nonprofit organizations through a single online giving platform on May 18th. Give To Lincoln Day is coordinated by Lincoln Community Foundation, in partnership with local nonprofit organizations.
Every donation makes a bigger impact on Give To Lincoln Day because nonprofits also get a proportional share of a $350,000 match fund.
The purpose of Give To Lincoln Day is to promote philanthropy in Lincoln and Lancaster County. There are three primary goals:
Introduce new donors to our nonprofit organizations.
Help Lincoln nonprofit organizations tell their stories and educate Lincoln about the positive impact they have on our lives.
Shine a community spotlight on this day of charitable giving to raise a substantial amount of new money to assist the local nonprofit network.
Give To Lincoln Day is intended to be a bonus fundraising opportunity for local nonprofits in our community. It is not intended to replace or interfere with donors' gifts to a nonprofit organization that would be made in the regular course of charitable giving.
Making A Donation
Donations to participating charities are made online and will be updated in real time on the online leader board at www.GiveToLincoln.com. Online donations may be made starting on May 1st. Gifts made between May 1 – May 17 will count toward the event, show on the leader board when the giving day begins on May 18 and be eligible for the match fund.
Donations may also be made in person by cash or check at the Lincoln Community Foundation office from 8:00am to 5:00pm on Thursday, May 18. Checks must be written to "Lincoln Community Foundation" with the nonprofit name specified in the memo line. LCF will charge the same 2.9% fee as Firespring Foundation, and direct fees received from offline gifts to discretionary funds used for community grants to local nonprofits. All donations are final and cannot be refunded. Nonprofit organizations will receive their donations (minus 2.9% fee), proportional share of the match fund and a list of offline donors within approximately one month of the event.
Nonprofit Eligibility
Nonprofit organizations recognized by the IRS as 501(c)(3) public charities located in Lancaster County that serve the people of Lincoln and Lancaster County are eligible to register for Give To Lincoln Day. Nonprofits that have either a Lancaster County address listed on their GuideStar record or most recent Form 990 are eligible. If the GuideStar/Form 990 official address is outside Lancaster County, the nonprofit must have a physical office space in Lancaster County other than a personal residence. Houses of worship and their foundations are excluded from participating.
Nonprofits must register to participate each year, and may be required to attend a training session at the Lincoln Community Foundation. Training session information will be included in the registration confirmation from Lincoln Community Foundation, or sign up for a training session here.
Why is my gift to Firespring Foundation?
All donations on givetolincoln.com will be made to the Firespring Foundation; a 501(c)(3) tax-exempt organization which permits donors to advise a re-granting of their donations to other IRS recognized qualifying 501(c)(3) organizations. Firespring Foundation will re-grant 97.1% of each contribution to the qualifying organization as advised by the donor, retaining 2.9% plus $.30 per transaction for credit card transaction costs.
Is there a minimum donation?
The minimum donation on givetolincoln.com is $10. There is a maximum donation limit of $10,000 per nonprofit per household.
Is there a limit to the amount an organization can receive on Give To Lincoln Day?
There is no maximum amount an organization may receive.
Are there restrictions on the match fund grants?
Gifts made to satisfy prior pledges are not eligible for matching funds. Household gifts exceeding $10,000 per nonprofit will be eligible for match fund dollars up to $10,000, and any amount in excess of $10,000 will not be eligible for the match fund. Lincoln Community Foundation reserves the right to deny, condition or modify the distribution of match grants if deemed necessary in the judgment of its Board of Directors.